119 Ebury Street receives positive press coverage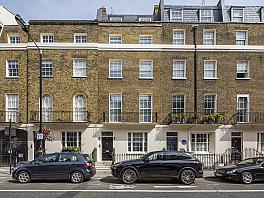 A sustainable future for the listed home
The first press coverage on 119 Ebury Street was published by The Times, Bricks & Mortar on 12 August 2012 following a live in by Carol Lewis. The piece is really positive finding the house to be a fitting legacy for Gerald Cavendish Grosvenor, The Duke of Westminister, who died last week.
119 Ebury Street in Belgravia is the UK's first listed building to achieve BREEAM Outstanding, the highest possible rating. The judges said 119 Ebury Street sets a benchmark for the sustainable retrofit of listed buildings in the UK, demonstrating how much their environmental impact can be reduced while preserving historically important urban fabric.
In short this means luxury homes can look amazing while delivering sustainable, low energy use through clever use of technology such as Aerogel (a material developed by NASA to insulate space craft).
The significance of this is a very real likelihood that 119 Ebury Street will change retrofit policies for listed building renovation.
The article was first published at thetimes.co.uk and can be downloaded in PDF format (400kb): A sustainable future for the listed home
Terrible budget hostel transformed into prize-winning homes
Further coverage in the Daily Mail which tells how the late Duke of Westminster transformed a terrible budget hostel into prize-winning homes so green that the loos are flushed with rainwater.
The article highlights the homes' green credentials are backed by features including secondary vacuum glazing; rainwater used to flush toilets; solar thermal energy panels, high-tech breathable insulation materials and super efficient boilers and that the BREEAM judges said: '119 Ebury Street sets a benchmark for the sustainable retrofit of listed buildings in the UK.
Sources: thetimes.co.uk, dailymail.co.uk
119 Ebury Street featured on BBC London News
Continuing the run of positive press coverage BBC London News featured 119 Ebury Street highlighting the importance of this project and how it is shaping up to influence future planning regulations and sustainability policy.
Belgravia Grade II House is the most sustainable - Victoria Cook is available to view on YouTube (2 min 5 sec.)
119 Ebury Street - UK's most sustainable heritage home
Grosvenor Britain & Ireland has completed a ground breaking transformation of a Grade II listed building in Belgravia, central London, creating three market leading sustainable rental apartments and setting a new environmental standard for the industry.
Watch the video on YouTube (4 min 46 sec)
Read more about UK's most sustainable period rental properties at www.grosvenor.com