Edward Pearce LLP Cycling Team At Building For Life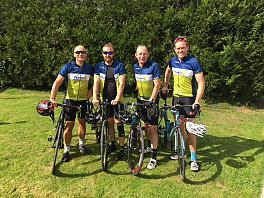 16th September saw the debut outing of the Edward Pearce LLP cycling team when it took part in the Forcia Buliding for Life cycling event in Hassocks, Sussex.
The event was based on a 4 man team time trial basis which dictates that clock stops when the last of the four riders crosses the line. Hence the tactic required is to ride together in close formation and 'leave no one behind'.
Resplendent in company colours Edward Pearce LLP finished a creditable 7th out of the 35 teams, completing the near 48 mile course in a time of 2 hours and 47 minutes.
The course started with an almost immediate heart pumping ascent up the well known and much feared Ditchling Beacon climb on the South Downs and then a long rolling hilly loop out into the Sussex Country side and back to the Hassocks campsite. A total elevation gain of 1,110m and a solid pace guaranteed a degree of tiredness in all at the end!
Our thanks to the Forcia organisers for a fantastic event which included a commemorative beer brand, BBQ and live music as well a great opportunity to mix with fellow cycling enthusiasts within construction sector.