The Hub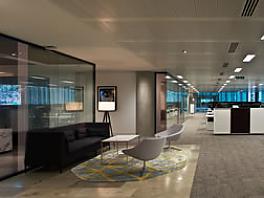 The Hub is an exciting Category B fit out to the 2nd Floor at No. 2 Kingdom Street. The finished accommodation includes a very high specification front of house welcome hub, meeting and board rooms and a video conference space with a presentation stage and imaginative finishes. The back of house areas are mostly open plan and include a vibrant reception space, meeting rooms, offices and a communications equipment room.
The property's floorplate puts social cohesion first. The Hub, as it is now familiarly known, is naturally sub-divided into three zones for meeting, working and socialising. From this great canvas, the design team took Broadgate Estates' brief of 'boardroom to yoga class' and created a natural working environment which balances wellbeing and organisational effectiveness in equal measure.
The project achieved a BREEAM "Outstanding" rating and is short listed for the New Office BREEAM award 2016.
Credits
Project Gallery