Stanley Park High School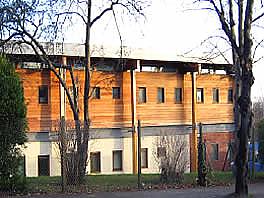 This project, completed in 2003, was a new build stand-alone block, constructed within the grounds of the existing school. The building was designed to incorporate a purpose-built autism unit and a sixth form teaching unit.
Initial discussions with the Planners identified the site as requiring abuilding of architectural merit. The resultant design blended glass panels and timber cladding to give a modern "high tech" appearance.
To achieve the "clean design" required for the building it was necessary to carry out a detailed coordination exercise between the building services and timber frame, primarily to identify the routing of pipework and conduit through the frame. Engineering Services included:
Mains and Sub-Main Distribution Switchgear.
Lighting.
Emergency Lighting.
Small Power.
Fire Alarms/Class change system
Disabled Alarm system
Intruder Detection System.
Communication (Voice and Data).
Safe isolation, disconnection and removal from site of allredundant mechanical and associated electrical services.
Provide any temporary measures necessary to maintainbuilding services to the school.
Provide new Heating system.
Provide new Hot and Cold Water system.
Provide new Ventilation system.
Provide new Thermal Insulation.
Provide new Controls system.