119 Ebury Street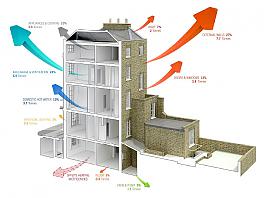 Exploring the balance between the goals of low carbon sustainable retrofit and conservation of historic building fabric, the development at 119 Ebury Street is a highly sustainable refurbishment within a heritage context, comprising a change of use from a hotel to create three residential duplexes. The sustainable refurbishment contains a number of 'smart' technologies, providing data on environmental performance and building operational functions.
The new sustainable 'smart' technologies introduced needed to be both sensitive and appropriate to the historic fabric of the building. They include internal wall insulation to existing walls, secondary vacuum glazing to existing windows, phase change materials to mitigate overheating, improvements to air leakage, rainwater harvesting, renewable energy generation from PV and solar thermal panels.
Integral to the scheme is a detailed two-year post-occupancy monitoring and reporting programme, to measure the success of the initiatives in terms of user satisfaction and carbon reduction. The performance of the scheme is benchmarked against a nearby similar listed building, 125 Ebury Street, which has been refurbished to a Grosvenor standard specification and will be monitored simultaneously.
The post-occupancy monitoring data collection covers:-
Consumption rates of fuel and water, broken down by end use (heating, hot water, lights and appliances) with associated costs and CO2 emissions.
Environmental conditions inside the apartments (temperature, humidity and CO2 levels) and local weather data from a rooftop station.
Environmental conditions within the fabric of the existing walls, (temperature and moisture content) to assess any change in condensation risk to the insulated walls.
119 Ebury Street aspires to be the first UK listed building to reduce its carbon emissions by 80 per cent, meeting the 2050 natural target by 2016. The project will test a variety of 'smart' technological enhancements, including the appropriateness of their incorporation within a heritage building.

James Starr, Development Manager, Grosvenor Britain & Ireland
Annual Emissions
Existing building: 29 tonnes CO2
Planning Proposal 2012: 6 tonnes CO2
Reduction in CO2: 80%