Duke Street, London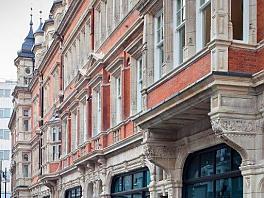 The project comprises the refurbishment of the existing retail and office space to 16 luxury apartments and shell & core for 4 No. A3 retail units. This grade II listed building is a fine example of buildings constructed of brickwork and tiled roofs during the late 19th century. Many fine details still remain on the front external façade of the building.
The project includes for the development of four retail units, two as A1 restaurant use and a total of sixteen rental/trading apartments from first floor upwards. The specification of the building services to the apartments is to a very high level and includes:
Boiler Plant - within each Apartment
Space Heating System - mainly Underfloor Heating within each Apartment
Hot Water Supply System - Closed System type within each Apartment, with secondary return circulation
Cold Water Supply System - Boosted and Mains Water Supply
Natural Gas Service - Individually metered supplies to each Apartment
Each apartment is to be fitted with a Crestron home automation system. The mechanical services controls are to be designed to enable full integration of all elements of the apartment's mechanical services into the Crestron system
Cooling/Heating - Heat Pump Systems within each Apartment
Mechanical Ventilation Systems - within each Apartment
Fire Prevention Service - Dry Rising Main
Thermal Insulation
Above-Ground Sanitary Plumbing Installation
Kitchen Canopy Exhaust Ductwork within each Apartment
New Incoming Individually Metered Gas Services for Retail and Apartments
New Incoming Individually Metered Water Services for Retail and Apartments, (mains water and boosted supplies)
The provision of MCB/RCBO distribution boards to give additional protection against indirect contact to small power
The provision of new lighting final circuits integrated to Crestron Home Automation
The provision of new lighting outlets and luminaires
The provision of new small power circuits and outlets
The provision of power supplies to electric underfloor tile heating, towel rails and mirror demisters
The provision of power supplies to comfort cooling
The provision of mains powered, battery backed and interlinked smoke alarms
The provision of a Home Network based on a Category 6 structured wiring system and audio/visual multi-room distribution system
The provision of a TV/FM/Sat TV (IRS) distribution system
The provision of cabling for the Client's controlled access system and broadband network
The provision of an intruder alarm systems
The provision of earthing and bonding
Value £32 million.
Date Completed: Summer 2013
Project Gallery